ArcelorMittal Gent to inaugurate €49m walking beam furnace in presence of Belgium's deputy prime minister Kris Peeters and Flemish minister-president Geert Bourgeois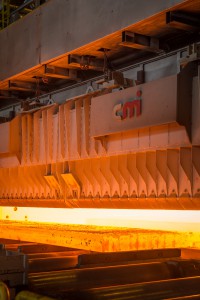 On Thursday April 21st a new walking beam furnace in ArcelorMittal Gent's hot strip mill will be officially inaugurated, in the presence of Belgium's deputy Prime Minister Kris Peeters and Flemish minister-president Geert Bourgeois. The furnace entails an investment of €49m. ArcelorMittal Gent also invests an additional €140m, spread over several years, in the production of a new generation of steel products. A customer day is being held on the same day, to inform customers about the investment program.
Strategic investments such as the walking beam furnace are a necessity in order to produce the steel of the future. ArcelorMittal Gent and Liège play a pioneering role in product innovation and have been chosen as the pilot sites for the development of Fortiform®, a new high-tech steel product. Fortiform®, which currently consists of three steel grades, represents a new generation of advanced high-strength steel products for cold forming. Car parts made with Fortiform® steel are 10 to 20% lighter, more economical and thus better for the environment. This way ArcelorMittal plays an important part in assisting automotive customers in limiting car emission rates to 95 grams CO2 per kilometer by 2020. The new steel also performs better in the event of a car crash.
Program
11h30 – Welcome drink and sandwich lunch
12h30 – Speeches by

Kris Peeters (Deputy-prime minister and minister of employment, economy and consumer affairs)
Geert Bourgeois (Minister-president of the Flemish government)
Matthieu Jehl (CEO cluster ArcelorMittal Gent-Liège)
Reiner Blaschek (CMO Business Division North, ArcelorMittal Europe – Flat Products)

13h30 – Company visit

official inauguration of the new walking beam furnace in the hot strip mill
visit to the hot strip mill
visit to the quality control department

16h30 – End
About the Cluster ArcelorMittal Gent-Liège 
ArcelorMittal Gent is an integrated steelworks which converts raw materials (iron ore and coal) into end products with high added value destined for the automotive sector and many other industries such as the white goods sector, construction, packaging… In 2015, ArcelorMittal Gent shipped 4.84 million tons of finished products to its customers (compared to a production capacity of 5 million tons). ArcelorMittal Liège, having 5 finishing lines at its disposal, produced 1.75 million tons of steel last year. The cluster ArcelorMittal Gent -Liège employs 6,300 employees. The total number of direct and indirect jobs is estimated at 13,000.