ArcelorMittal Ghent takes the next step towards producing zero carbon-emissions steel by replacing fossil coal with Perpetual Next's bio-coal
ArcelorMittal Ghent has taken an important step in its decarbonisation journey by choosing to use high-quality bio-coal as a raw material for its steel production process. Until now, fossil coal was mainly used in steel production to extract iron from iron ore, among other things.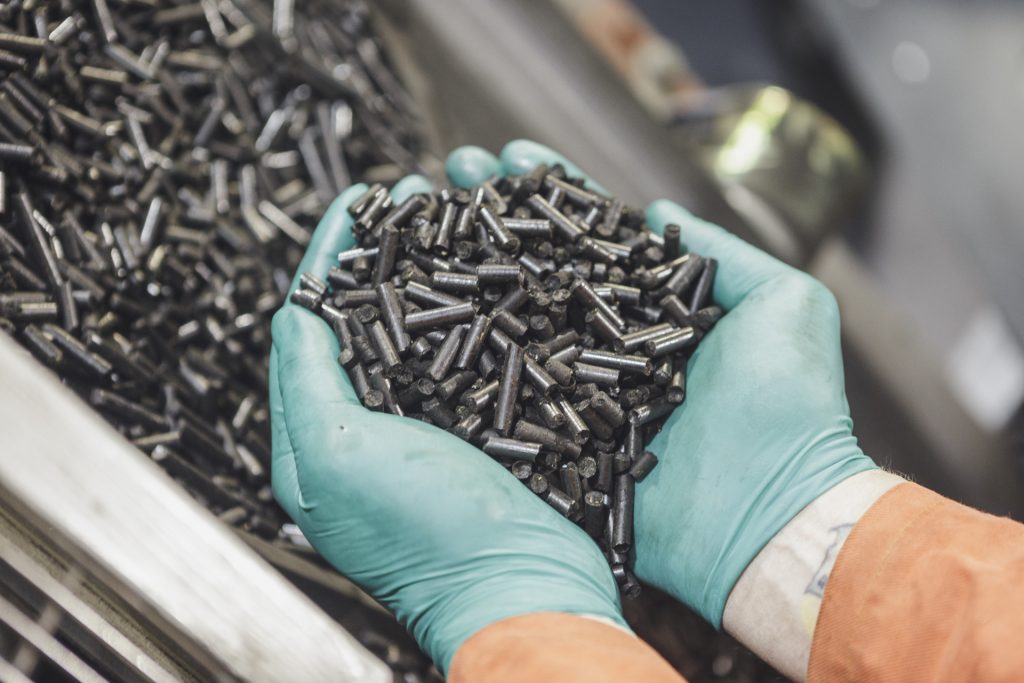 ArcelorMittal Ghent is starting a pilot project to use bio-coal as a high-quality partial replacement for fossil coal. The bio-coal is being responsibly sourced from Dutch company Perpetual Next, which produces the bio-coal using its patented high temperature torrefaction technology. The partnership with ArcelorMittal in Ghent starts with an initial delivery of 30,000 tonnes of bio-coal to the Ghent blast furnace, which can be scaled up to 350,000 tonnes of bio-coal on an annual basis.
Need for change
Global steel production was 1.86 billion tonnes for the year 2020, 70% of which was produced in blast furnaces using fossil coal. Steel demand is expected to double from current levels by 2050, which could lead to a doubling of CO2 emissions with unchanged policies. This underlines the need for change: compared to using fossil coal, 2.5 tonnes of CO2 are saved per tonne of bio-coal.
Torrefaction
Perpetual Next's torrefaction technology converts biomass produced from Forest Steward Council (FSC) certified forests into bio-coal with the same properties as fossil coal. With this technology, the raw materials are converted into bio-coal through a thermal refining process. This creates a relatively affordable renewable raw material with high energy density. The patented technology is owned by Perpetual Next, which supplies high-quality coal from its own production facilities, as well as the technology, including the torrefaction reactors.
Manfred Van Vlierberghe – CEO ArcelorMittal Belgium:

"ArcelorMittal Belgium has the ambition to decarbonise its steel production faster and deeper than required by the Paris Agreement. We do not only want to reduce our carbon footprint, but also our waste footprint – our steel company has a roadmap towards zero carbon emissions and zero waste. We will do this step by step in a responsible way, and today's announcement is one such step – partially replacing fossil carbon with bio-coal. Perpetual Next's torrefaction technology is a perfect fit with our XCarb® program which brings together all of ArcelorMittal's reduced, low and zero-carbon products and steelmaking activities, as well as wider initiatives and green innovation projects, into a single effort focused on achieving demonstrable progress towards net-zero steel."
Martijn van Rheenen – CEO Perpetual Next:

"With the application of our technology for ArcelorMittal in Ghent, we are opening up a new industry to help make it more sustainable. The bio-coal has such high-quality properties that it offers a partial replacement for fossil coal in applications such as the steel industry's production process. In addition to reducing ArcelorMittal's own CO2 emissions, this step gives ArcelorMittal's clients the opportunity to reduce their so-called scope 3 emissions, in line with the EU Fit for 55 programme presented by Frans Timmermans, European Commissioner and Vice-President of the European Commission, on 14 July." 
About ArcelorMittal & ArcelorMittal Belgium
ArcelorMittal is the world's leading steel and mining company, with a presence in 60 countries and primary steelmaking facilities in 17 countries. In 2020, ArcelorMittal had revenues of $53.3 billion and crude steel production of 71.5 million metric tonnes, while iron ore production reached 58.0 million metric tonnes.
ArcelorMittal Belgium, with production sites in Ghent, Liège, Genk and Geel, employs 5,000 people. The total direct and indirect employment is estimated at 30,000 jobs. The company produces high-quality steel for the most diverse applications in the automotive sector and other industrial sectors such as the green energy sector, construction, white goods, packaging, etc.
Our goal is to help build a better world with smarter steels. Steels made using innovative processes which use less energy, emit significantly less carbon and reduce costs. Steels that are cleaner, stronger and reusable. Steels for electric vehicles and renewable energy infrastructure that will support societies as they transform through this century. With steel at our core, our inventive people and an entrepreneurial culture at heart, we will support the world in making that change. This is what we believe it takes to be the steel company of the future.
Contact details ArcelorMittal Belgium
Jan Cornelis, Country Manager: jan.cornelis@arcelormittal.com | +32 9 347 35 72 +32 499 599 394
contact.belgium@arcelormittal.com
About Perpetual Next
The mission of Perpetual Next is to prevent further climate change by reducing CO2 emissions and capturing and storing CO2 for its customers. Perpetual Next achieves this by preventing waste and upgrading organic waste streams to high-quality raw materials and products with the use of leading technology. Organised in three divisions: Trading, Conversions and Technologies. For the storage of CO2, Perpetual Next pursues an active reforestation policy. In 2021, in the countries where Perpetual Next is active, at least one million trees will be planted in favour of reforestation. With its activities, Perpetual Next generates carbon credits, which are a fundamental part of its business model. Perpetual Next has linked its mission to the UN Sustainability Development goals, the ESG criteria and the EU Green Deal.
Contact details Perpetual Next
www.perpetualnext.com  
info@perpetualnext.com
Joost Oostveen, Corporate Communications: j.oostveen@perpetualnext.com | +31(0)6 20 42 44 38