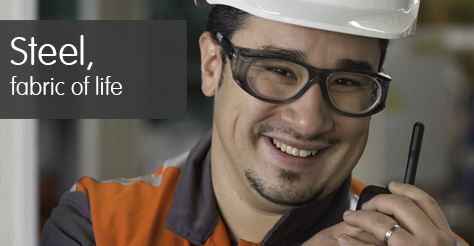 Steel in your day-to-day life
Maybe even your car

Did you know that ArcelorMittal Belgium provides steel to most of the automotive manufacturers?

Fashionable buildings

Did you know that many architects and building contractors utilise our steel?

In your house

Did you know that many of your household appliances contain steel made by ArcelorMittal Belgium?
News

ArcelorMittal Belgium lifts bioreactors into place at its groundbreaking Steelanol plant for carbon-neutral steelmaking

ArcelorMittal Belgium has marked a major milestone in the construction of its pioneering Steelanol project, with the arrival and lifting of four giant bioreactors at the Gent steel plant.
The bioreactors, which will convert industrial gases captured during the steelmaking process into sustainable ethanol, are the central element of the installation, making their arrival and lifting the final major part of the Steelanol construction phase and the beginning of the next phase to install pipes and connect the equipment.


ArcelorMittal Belgium inaugurates blast furnace of the future

ArcelorMittal Belgium has officially inaugurated its blast furnace B in Ghent, making it one of the world's most modern and efficient blast furnaces, both in terms of productivity and CO2 emissions.

New Corporate Responsibility Report online

The new corporate responsibility report of ArcelorMittal Belgium is now available online. In the (digital) report we look back at our ArcelorMittal Belgium activities of 2019.

Blast furnace relining has commenced

On September 7, we have shut down our blast furnace B for a couple of months to replace the refractory lining. A challenging project that is safety-critical and also requires a specific approach due to the presence of the coronavirus.

Working at our company

Please note that you will be referred to the Dutch version of our site.