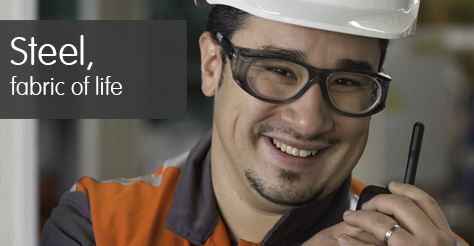 Steel in your day-to-day life
Maybe even your car

Did you know that ArcelorMittal Belgium provides steel to most of the automotive manufacturers?

Fashionable buildings

Did you know that many architects and building contractors utilise our steel?

In your house

Did you know that many of your household appliances contain steel made by ArcelorMittal Belgium?
News

Inauguration of Fortiform® furnace at ArcelorMittal Gent

An ultra-modern furnace in ArcelorMittal Gent's Sidgal 3 hot dip galvanizing line was officially inaugurated today in the presence of Honorary Governor Jan Briers.

Corporate Responsibility Report 2017

Our 'Corporate Responsibility Report' 2017 is now available online.

'All Weather Terminal' First for Ghent port area

ArcelorMittal Gent, the Flemish investment company "Participatiemaatschappij Vlaanderen" ("PMV"), Euroports and North Sea Port are collaborating on the first ever roofed loading bay and warehouse in Ghent: the "All Weather Terminal" (AWT). An investment worth more than 50 million euros.

ArcelorMittal and LanzaTech break ground on €150million project to revolutionise blast furnace carbon emissions capture

ArcelorMittal has begun construction of new premises at its site in Ghent, Belgium, to house a pioneering new installation which will convert carbon-containing gas from its blast furnaces into bioethanol. If proved successful, the new concept has the potential to revolutionise blast furnace carbon emissions capture and support the decarbonisation of the transport sector.

Working at our company

Please note that you will be referred to the Dutch version of our site.