Storm is building Belgium's first subsidy-free wind farm at ArcelorMittal Belgium in Ghent
Flemish Minister of Justice and Enforcement, Environment, Energy and Tourism Zuhal Demir opened this morning the construction site of the new Storm wind farm on the premises of ArcelorMittal Belgium in the port of Ghent. Three wind turbines with a rotor diameter of 162 meters, a tip height of up to 230 meters and a capacity of 6 MW per turbine will be put upright by the end of this year. These will be the largest wind turbines in Belgium.
ArcelorMittal Belgium buys all electricity from the wind farm for twenty years at a fixed price. The steel company thus ensures itself of a guaranteed supply of low-priced and renewable energy. Storm can therefore realise the wind farm subsidy-free, without having to rely on the system of green certificates.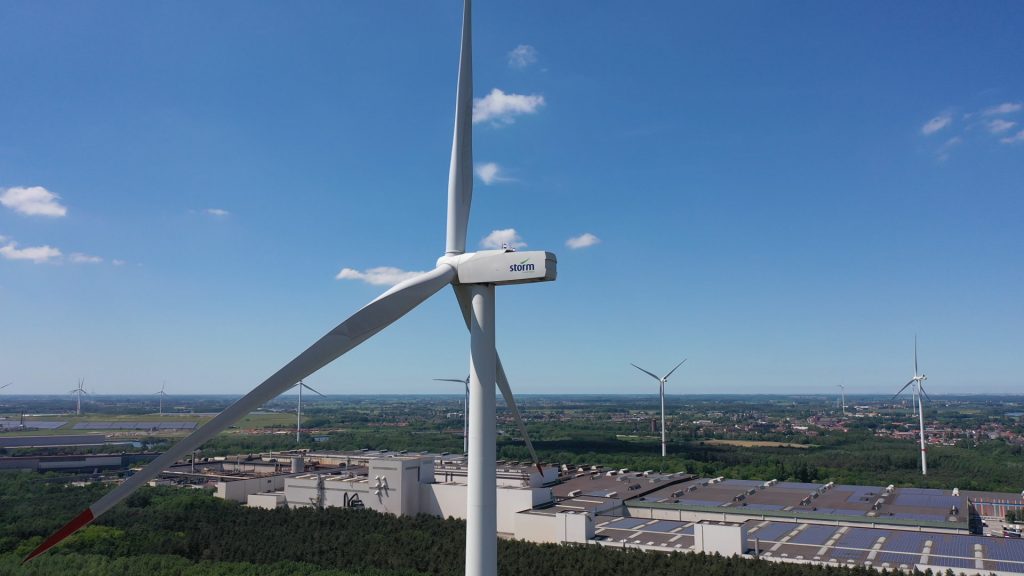 Wind energy has become the cheapest form of electricity production. One MWh of electricity from a new wind turbine costs less than one MWh from, for example, a new gas plant, coal plant, biomass plant or nuclear plant.
"The faster we can roll out wind turbines, the lower the electricity bills of our families and the stronger the competitive position of our companies," says Storm's managing director Jan Caerts. "We are therefore pleased and proud that we can start the construction of the largest wind turbines in Belgium, with which we will provide the steel plant of ArcelorMittal Belgium in Ghent with low-priced energy for twenty years."
Manfred Van Vlierberghe, CEO ArcelorMittal Belgium, says: "ArcelorMittal Belgium is among the world leaders when it comes to energy efficiency and CO2 emissions per ton of steel. With this new and first subsidy-free wind farm, we are setting another milestone in the field of renewable energy together with Storm. The locally produced green electricity is fully consumed by our internal steel production processes, which reduces our CO2 footprint. The new wind turbines are also a good example of the importance of steel in our daily lives. Without steel, no sustainable energy."
"Wind turbines are becoming bigger and more efficient. The great cooperation between Storm and ArcelorMittal Belgium shows that they also need less and less support to be profitable. The construction of the first subsidy-free wind farm in Flanders strengthens my conviction that we, the Flemish Government, are on the right track by gradually phasing out the certificate support for solar and wind projects," says Flemish Minister of Energy Zuhal Demir.
The subsidy-free Storm wind farm will supply more than 45,000 MWh of electricity annually to ArcelorMittal Belgium's production site in Ghent. This corresponds to the equivalent annual electricity consumption of 13,000 families. The wind farm avoids emitting 11,225 tonnes of CO2 every year. It is scheduled to be operational in spring 2022.