ArcelorMittal Belgium krijgt erkenning voor duurzame inzet van Voka Oost-Vlaanderen
Op 16 juni 2022 werd ArcelorMittal Belgium, samen met andere bedrijven, in de Plantentuin van de UGent letterlijk in de bloemetjes gezet. Want wie inzet op duurzaamheid moet daar ook de erkenning voor krijgen, vinden ze bij Voka Oost-Vlaanderen. Van 'greenwashing' geen sprake: alle bedrijven voltooiden succesvol een actieplan voor een duurzamere bedrijfsvoering en verdienen daarom het Voka Charter Duurzaam Ondernemen.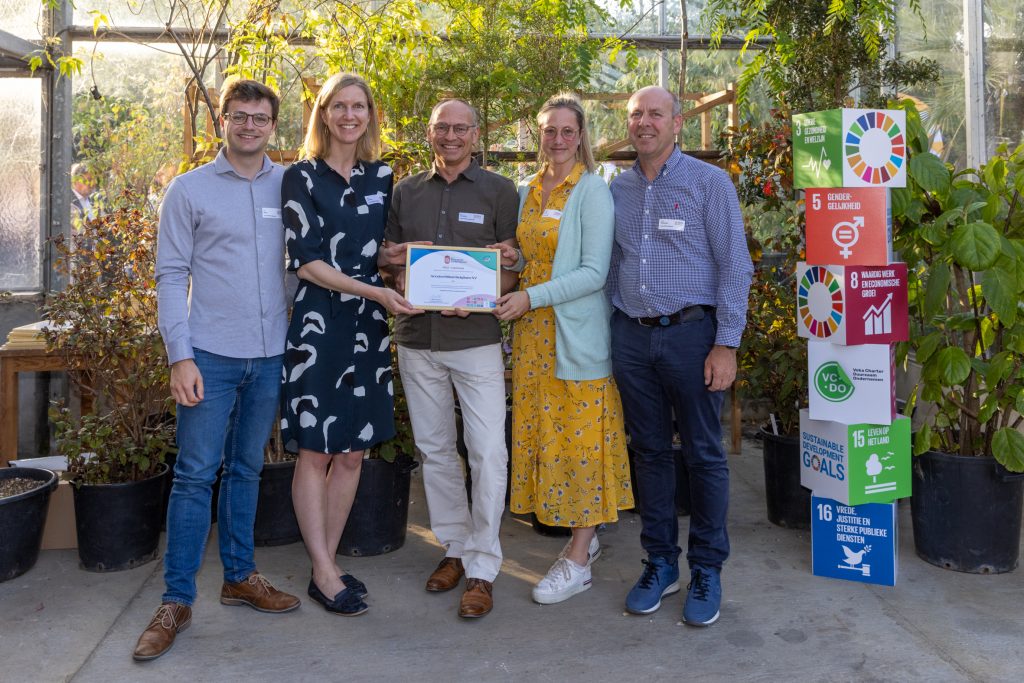 Het aantal bedrijven dat duurzaamheid als maatschappelijke uitdaging aangaat, dikt fors aan. Minder CO2, inzetten op circulaire economie, investeren in innovatie en groene energie: het zijn maar enkele voorbeelden waar de laureaten van het Voka Charter Duurzaam Ondernemen inspanningen voor leveren. Van ArcelorMittal tot kleine kmo's: bedrijven bewijzen dat je duurzaamheid kan omzetten in de praktijk en dat je daarin best ambitieus mag zijn. Dit jaar krijgen maar liefst 74 bedrijven het Charter overhandigd. Een enorme stijging in vergelijking met de 54 laureaten vorig jaar. Nog maar eens een bewijs dat duurzaam ondernemen aan belang wint.
Duurzaamheid is een strategische keuze
"Wie vandaag niet inzet op duurzaamheid mist de boot", stelt Geert Moerman, gedelegeerd bestuurder van Voka Oost-Vlaanderen. "Duurzaam ondernemen gaat over uitdagingen anticiperen en inspelen op opportuniteiten. Wie een succesvol bedrijf wil uitbouwen voor de lange termijn weet dat duurzaamheid een strategische keuze is. We zien de laatste jaren een versterking van het maatschappelijke debat, de Europese Unie trekt voluit de duurzame kaart met de Green Deal en ook investeerders zijn op zoek naar projecten die futureproof zijn. Het zorgt ervoor dat duurzaamheid op tafel ligt in alle ambitieuze bedrijven."
Innovaties stuwen bedrijven vooruit
Heel wat deelnemers kunnen uitpakken met sterke innovaties om hun duurzaamheid concreet te maken. Van het opwekken van groene energie, over het recupereren van restwarmte tot het hergebruik van afvalwater: elk bedrijf zet maximaal in op het stelselmatig wegwerken van hun potentiële negatieve impact op de leefomgeving.
Maar ook inzake sociale duurzaamheid zijn bergen werk verzet. Een duurzame plaats om te werken realiseren staat bij heel wat bedrijven met stip op 1 in het actieplan. Bedrijven die investeren in hun werknemers, diversiteit en inclusie hebben immers een streepje voor op de huidige competitieve arbeidsmarkt.
Inspiratie door Upgrade Estate en House of Lux
Nele Van Damme, verkozen tot Sustainability Professional 2022 en co-CEO van Upgrade Estate, motiveert haar mede-laureaten samen met haar co-CEO Koenraad Belsack: "Wat duurzaamheid betreft kan je als bedrijf nooit ambitieus genoeg zijn."
Het dragcollectief House of Lux reikt daarna de certificaten uit. Diversiteit en inclusie een onderdeel van duurzaamheid? Absoluut.