Blast furnace relining has commenced
On September 7, we have shut down our blast furnace B for a couple of months to replace the refractory lining. A challenging project that is safety-critical and also requires a specific approach due to the presence of the coronavirus.
Why this relining?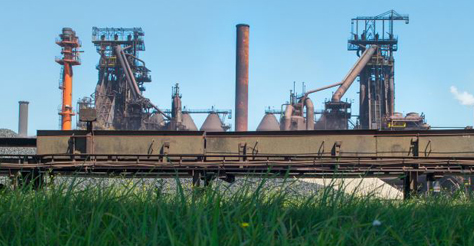 ArcelorMittal Belgium produces steel via the classic blast furnace route. In a blast furnace, iron ore (in the shape of sinter) and coke are converted into liquid hot metal at a high temperature. We have 2 blast furnaces, referred to as blast furnace A and blast furnace B, which serve as the heart of our production site. Blast furnaces operate for 20 to 25 years after which the refractory lining has to be renewed. The relining of blast furnace B is up next!
Our steel industry fulfils an important role in our society as a producer of a basic material of vital importance. Steel is needed for the construction of hospitals, laboratories, supermarkets and facilities needed for our society to function properly. An efficient and continuous production of steel is even more important in the current circumstances. With the renewal of our blast furnace, we can thus fully ensure the continuous production of a basic material.
Our approach to corona
The blast furnace relining will take about 4 months with many employees working at the same time on the construction site. Of course, we do everything we can to prevent any infection with the coronavirus. Herewith an overview of the prevention measures taken:
Ground rules: Throughout our company, we have three ground rules that must be strictly adhered to in order to prevent the spread of the virus: good hand hygiene, adherence to a social distance of 1.5 meters and the obligation to wear a mouth mask. This is further reinforced as follows:

Communication: These ground rules have been widely communicated throughout our company, info-boards have also been set up across the site.

Washing and disinfection: Sanitary containers with washbasins and soap dispensers were set up on site, additional cleaning rounds are carried out, cleaning standards have been implemented.

Mouth masks: These are available on the site and have to be consistently worn.

Tests: In collaboration with an external prevention agency, a test module has been set up to carry out corona sampling on our site in an easily accessible way. The analysis of the samples is carried out by accredited test laboratories. This is all executed in consultation with the Care and Health Agency, the Province of East Flanders, the City of Ghent, the Ghent hospital network and the General Practitioners Association Ghent.
Temperature checks: The temperature of all employees is monitored and recorded daily at the entrance of our ArcelorMittal Gent site as well as at the construction site zone. We also carry out random checks during the working hours.
Contact tracing: Thanks to an effective internal contact tracing, we can quickly identify with whom, for how long and at how close a distance a COVID-infected colleague at the workplace has had contact with.