13th Environmental Charter for ArcelorMittal Gent
ArcelorMittal Gent received the East Flanders' Environmental Charter for the 13th consecutive time on June 15th. The Environmental Charter is an initiative of the East Flanders Chamber of Commerce (VOKA). The initiative encourages local companies to pursue a more active environmental policy. By doing so, VOKA aims to improve the environment and the living conditions in our region. Only those companies willing to go beyond the legal prerequisites on environmental actions, are eligible for the award.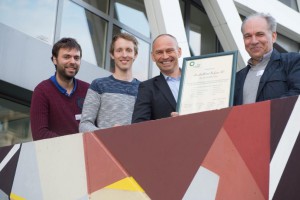 We submitted an environmental action plan to the East Flanders Chamber of Commerce at the beginning of 2015. An assessment team, composed of representatives of various environmental authorities, then visited our company last April to inspect the execution of the action plan. Based on the report of the assessment team, the evaluation committee of the Environmental Charter decided to again grant us the Environmental Charter.
A delegation of ArcelorMittal Gent received the award on June 15th from Mr. Brecht Carels, director of the Economic Council of East Flanders.
At ArcelorMittal Gent we add great value to the Charter as it is a distinct acknowledgment from local authorities for our efforts made on sustainable entrepreneurship.
More information on our environmental initiatives.